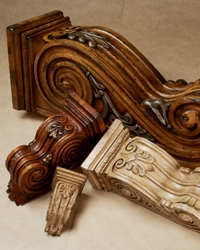 SHER-WOOD® Glaze
SHER-WOOD® Glazes are pigmented wiping type stains designed to be applied over sealed or painted wood to accent, highlight, or provide uniform color. To achieve different looks, these glazes can be applied in a variety of decorative application techniques, such as ragging, sponging, stippling, and marbling.
Product Features
Can be applied by spray, rag, or brush.
Can be used with all SHER-WOOD® solvent based sealers, basecoats, and topcoats.
High strength Van Dyke Brown and White with good staining power.
Natural can be colored with S64 Wiping Stain Concentrates and D64 Alkyd Shading Bases to make a variety of custom color glazes.
Meets the Federal HAPS rule for wood finishes as packaged.
CONTACT US
Phone: 1-800-524-5979
Online: Web Form