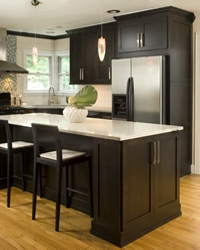 SHER-WOOD® F3 KEMVAR® VARNISH
New SHER-WOOD® F3 KEMVAR® Varnish provides wood finishers with a high performance option for formaldehyde free finishing. Designed to be a drop-in replacement for traditional conversion varnish, it has the same look, application, and performance with no formaldehyde. SHER-WOOD® F3 KEMVAR® Varnish provides the regulatory advantage of a formaldehyde free finish and the performance benefits of a catalyzed product, and is an excellent choice for cabinets, furniture, or any interior wood application where durability is critical.
Product Features
Formaldehyde free coating during application and on cured parts.
Contains U.V. absorbers for added wood protection.
VOC and HAPS compliant formulation.
Meets KCMA test requirements as a self-seal system.
Ready to apply following catalyzation, no reduction required.
Lower odor than traditional conversion varnish.
CONTACT US
Phone: 1-800-524-5979
Online: Web Form