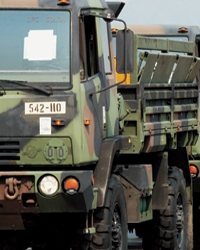 MIL-DTL-53022E TYPE 2
E90H226/V93V227 is a two component 3.5 lb/gal VOC compliant, lead and chromate hazard free epoxy primer. It meets MIL-DTL-53022E, Type II composition and performance specification. It may be used as a primer under MIL-PRF-85285D (non-aircraft) polyurethane topcoats, polyurethane chemical agent resistant coating (CARC) specified in MIL-DTL-53039C or waterborne polyurethane (CARC) specified in MIL-DTL-64159 Type I or II, or MIL-PRF-22750G epoxy topcoat.
Product Features
3.5 lb/gal VOC.
Fast drying - can be top coated in 30 minutes.
Excellent chemical, solvent and corrosion resistance on aluminum and steel.
Free of lead and chromate hazards.
CONTACT US
Phone: 1-800-524-5979
Online: Web Form