Comptant plus de 140 années d'expérience en finition de produits, Sherwin-Williams dessert le marché de la finition des produits au moyen d'un réseau nord-américain d'installations appartenant à la compagnie et d'une portée mondiale en plein essor.
Les Marchés Que Nous Desservons
Nouvelles Et Événements
02/25/2013
Sherwin-Williams Announces 2012 ProVisions™ Vendor Award Winners. Read More.
10/01/2012
Sherwin-Williams Adds Satin Sheen to RAL Color Program. Read More.
08/19/2012
Sherwin-Williams adds Sher-Wood® F3 Hi-Bild PreCat Lacquer to Formaldehyde Free Line. Read More.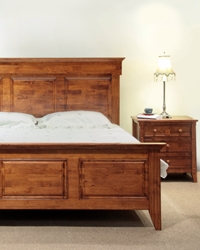 Produit/Service Vedette
Plus Clair SHER-WOOD KEM Aqua
Sher-Wood® Kem Aqua® Plus is a high quality, water reducible, self-seal clear for finishing furniture, cabinets, and a wide variety of wood and novelty items. It contains a UV absorber to significantly reduce natural wood discoloration due to sunlight. It meets the test requirements of the KCMA as a self-seal system.
Engagement Envers L'environnement Et Le Développement Durable
L'engagement de Sherwin-Williams envers l'environnement et votre entreprise passe par nos laboratoires, nos usines et nos syst�mes de distribution. En tant que chef de file de l'industrie, nous investissons des millions de dollars par ann�e en recherche et d�veloppement de solutions novatrices de rev�tements sans danger pour l?environnement. En savoir plus